There are many million or billion-dollar business, even some of the trillion. Creating a successful business too hard and need much working effect and times. it needs to plan and execute the plan. So Every department of business plans needs different category person to execute specific works. it's much costly and spend a big amount of time.
So if you are thinking about to start your business online. I am going to writing "starting a successful business with a short time and much cheaper cost" with Fiverr in online.
What is Fiverr?
Fiverr is market a place, where you can execute your works with a much cheaper and short time. There are many freelancers in there. Freelancer is who done your works. So I call Fiverr a Human Resource Management market place for business. There is all most every category freelancer there. You can get service with lowest 5 dollar cost. it's too cheaper.
Start and Grow your Business with Fiverr
Here is starting to end step for start and grow your business in online
#1 Research
If You are thinking about business, you must need to research for business product. Of course, you don't want to run your business blindly. Now here is Fiverr service in category business and sub-category Product research come, so you can research your product in Fiverr with low cost.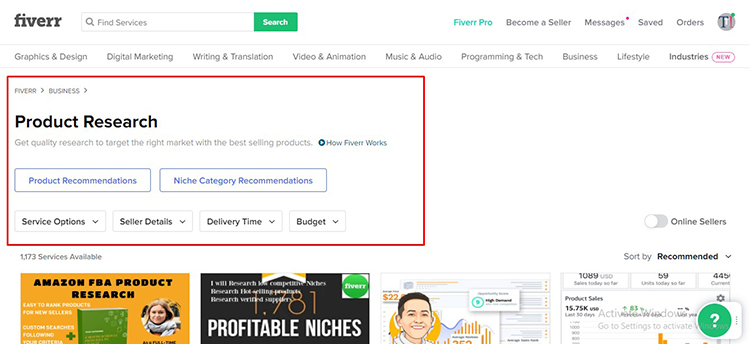 Market Research: you can research your audience market, product marketing in Fiverr.
#2 Business Plans
So it's no matter where are you want to do business online or offline. If you want to create a successful business, you must have logical and effective business plans accordion to your business product and market. You can get a successful business plan from Fiverr. Here is Fiverr sub-category business plans.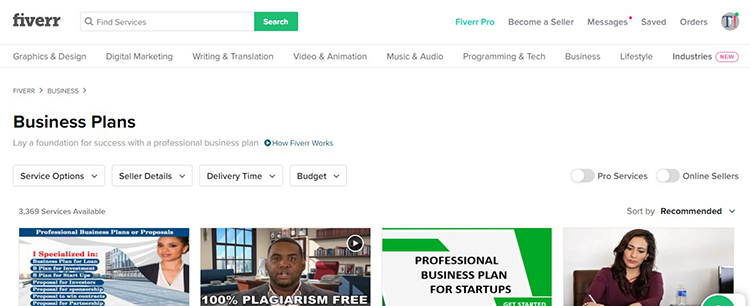 #3 Brand Or Logo
After getting a business plan from Fiverr, you want a great brand logo for your business, it's important, your business logo will represent your business model. So you can create your representative logo via fiverr experienced logo designer. In Fiverr logo design exist in sub-category 'logo design' of 'Graphic Design' category. Create Your Unique Logo Today! Logo Design + Everything You Need To Build and Grow Your Brand and Business from fiverr.com.
#4 Make Website online
At this stage is to make your business online with the website launch. There is multiple things need to do for making your business with website or website launch. I am going to guide your all of thing you need to launch the website.
Domain And Hosting
Domain:  Domain is the name of your online address, example: www.yourbusinessname.com. launching your website you first need a domain, what was purchase from domain provider accordion to Brand name. There is Namecheap domain provider, you can buy from them at cheap price.




Hosting: Hosting means a computer where you store or host your website in there. It's will allow the internet to view your website, Deep understanding of web hosting read this article
After purchase your domain name you need to host your website. I recommend hosting provider: for starting you can host in Namecheap.


WordPress Theme
WordPress is a CMS(Content Management system) what can control with no coding knowledge. There is millions of website theme with WordPress cms. So it's great to choose to build a website with WordPress theme. you need to buy this theme from popular market place Themeforest


After getting your theme you need to customize it accordion to your business model. Here Fiverr service call WordPress customization come. They will customize theme and content upload in your website.
Note: if you don't want to this harassment. you can hire fiverr freelancer to do your all preview mentions works. freelancer can do all thing to launch your website in online. Hire Expert Programmer
#5 Marketing in Online (Social media)
You must want to grow or reach your website online. So Fiverr freelancer can do this job. they will help you get a lead generation. and social marketing in online. Marketing services in Fiverr Video marketing, Email marketing, Influence marketing, lead generation, and Social media marketing.