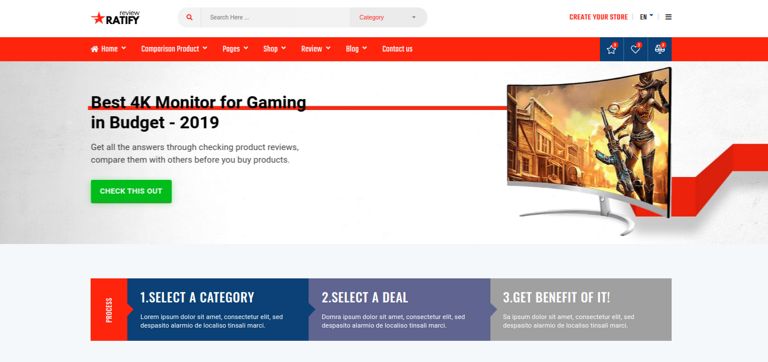 Ratify Template is full stack affiliate solution for your affiliate business like if you do amazon, eBay, flip cart or others affiliate programmed you can successfully make your website with that to convert it dynamic or statically build website of your own. Ratify HTML template crafted with professional ui/ux designer and convert it to HTML. With affiliate marketer understand how demand is that template its fully money making template as a market judge.
It has Top Hybrid features like as :
# Categories and item based cost and examination page
# Coupon and Cashback Option with Product Integrated Relation Features.
# Multi-merchant Shop pages
# Review and Rating choices pages
Key Features:
– 3 Home Page with 1170px and 1650px variation
– Automatic equation product comparison filter
– 1170px bootstrap grid and 1650px custom grid
– Beautiful megamenu design
– Review, Coupon, Product page with different layout
– Review list view and grid view
– SEO friendly and optimized
– Custom Ajax search
– Responsive table and comparison design
– Support latest Bootstrap and jQuery
– Designed with 100% Responsive
– Clean, modern design
– Free google font used
Image Credit:
Pexels
Unsplash
Photodune
Pixabay
Fonts Used:
Buy This Template